Navigation
Overview • Categories • Articles • Discussion • Help
• Brave Series • Songs • Characters • Main Mechanics
This is not a role-playing site, it is a resource center.
We are interested in the contribution of official information, not player profiles which are completely fictional.
The Wiki's header icon is taken from the 20th Anniversary logo.
The Wiki's Discord server: https://discord.gg/ykTfpxQ
Latest News
Streaming of Brave Series on Sunrise Official Youtube Channel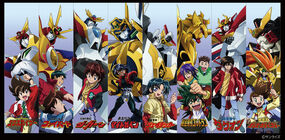 Starting from February 3, 2020, Sunrise will be streaming all of the 8 Brave Series TV shows on Youtube to commemorate the series' 30th anniversary. Unfortunately for overseas viewers, the episodes will be region-locked in Japan, but a VPN should be able to do the trick.
Featured Article
TBA
Poll